Archive for the 'Hot or Not' Category
Photo Credit: beyonce.com
So I've been a 49ers fan since I was a kid growing up in the Bay Area.  Who wouldnt't be a fan when the team consisted of Joe Montana, Jerry Rice, Ronnie Lott and Roger Craig?  Of course, I'm excited to see the home team make it to the Super Bowl, but what I'm more excited about is this year's half time performance by Beyoncé.  Now, I'm not a Beyoncé "stan" (obsessed fan), but I must say all the hype and promotion is making me look forward to what Queen Bey will bring to NOLA.
Unless you've been living under a rock, you've heard about Beyoncé's infamous lip-syncing performance of the Star-Spangled Banner at the inauguration.  After horrible headlines (Beyoncé-gate…REALLY?!) and hilarious memes (Milli Vanilli comparisons), enough is enough. I think everyone would agree that she gave a great performance and could care less whether she lip-synced or sang live.
So, it's not surprising that Beyoncé sang the national anthem a cappella during the NFL press conference. With that performance she squashed any doubts of her ability to sing and her love for America.  It was just another example "B" being a flawless performer, which I can attest to from witnessing her Roseland Ballroom concert for the album 4 where she was running across the stage and jumping on top of a piano all while belting out song after song (impressive? yes).
That being said, it will be exciting to see what's in store for Sunday's game. Will Beyoncé's performance slay the stage? I'm pretty confident she will give people something to talk about leave them wanting more (oh wait, she's announcing a tour soon!)–of course. But more importantly, will the Niners bring home their 6th Super Bowl ring (yes…count them!) home to the Bay? My money is on the Red and Gold.
Bonus: A little treat for my 49er's fans. http://youtu.be/lo8wWpxJi4s
Written by: Jawara Delane
The 2011 Grammy nominations were announced yesterday and while the list includes the usual suspects (Lady Gaga, Eminem, Rihanna), it's the dark horses that have my vote.
Hearing that Cee-Lo Green's catchy "F— You/Forget You" won for Record & Song of the Year, Florence and the Machine (up against Justin Bieber, among others) took Best New Artist, and the talented (and understated) Sara Bareillis triumphed over the likes of Lady Gaga, Katy Perry and Beyoncé for Best Female Pop Vocal Performance with "King of Anything" would be music to my ears.
Get the full list of nominees here.
E!'s BridalPlasty premiere Sunday night featured brides-to-be competing for plastic surgery. The reality show's ultimate prize includes a laundry list of cosmetic procedures, a dream wedding…and a groom who hasn't seen his wife in 4 months.
Bridezilla? More like Bridenstein.
It must be as painful to watch as it is to compete, as the premiere only drew in 900,000 viewers. Ouch, that hurts.
When I was a small child an Advent calendar from my mom or grandma was a great gift to kick-off the holiday season and enabled me to hold out for Santa. A single small piece of chocolate from December 1st to Christmas Eve behind little cut-out windows in a house.
Well, Porshe has upgraded that original concept. And we're talking MAJOR upgrade. Behind each day on this Advent calendar you'll find things like gold watches and, um, a yacht. (How are they ever going to fit a yacht in one of those squares?!) The price for this extravagant holiday countdown? One million dollars. My budget tells me I'll be sticking to the chocolate version this year.

The Three Wolf Moon shirt is arguably my favorite meme in the history of the internets  – right up there with Chuck Norris Facts, LOLcats, and demotivational posters. Difference is none of the other three are being named the "Official T-shirt of New Hampshire Economic Development."
No, seriously: Amazing article here.

Single serving websites are super hot right now – partially because they're cheap, easy to put up, and tend to be devilishly clever, and partially because the internet needs a place where you can get a sad trombone sound or the correct spelling of "definitely."
Coworker Jamie Templeton filled another need this weekend when he launched www.panettone-color.com. So now if you want to see a loaf of Italian sweet bread in a cornicopia of vibrant colors there's a place for that.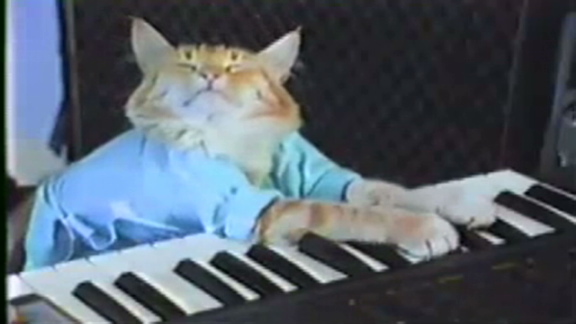 I don't like to brag, but outside the two or three hours of sleep I manage a night, and the 20 minutes it takes me to get to work, the remainder of my existence is utterly consumed by various prepositional phrases followed by the word "internet".
That commitment to the web means that by the time an average human comes across something like the kid flipping out because his mom canceled his WoW account, I've already seen two remixes with Kanye telling him that his freak-out was good, but the Angry German Kid was the best freak out of all time.
This commitment to nerd is why I'm astounded how many videos from Gawker's 100 best viral videos 2009 totally slipped past my watchful eye this year. It's really a testiment to the super information web's awesome bountiful bounty of awesome. Thank you Al Gore.