Archive for the 'lebron james' tag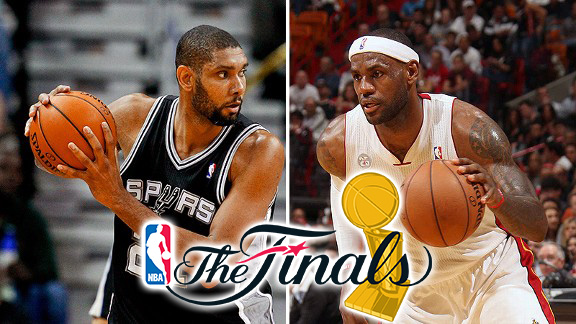 (Photo Credit: ESPN.com)
What happens when an unstoppable force meets an immovable object? The result is this year's NBA Finals. At long last, the stage is set for two of basketball's leading men to take center stage. I'm talking of course about LeBron James of the Miami Heat and Tim Duncan of the San Antonio Spurs.
"King" James is on the verge of elevating his team to dynasty-like status with his 3rd consecutive Finals appearance. Over the past 3 seasons, LeBron and the Heat have been as close to unstoppable as a team can be, blowing out opponents left and right (despite chronic injuries to Dwayne Wade and Chris Bosh's under performing). This has put the spotlight squarely on James, thus furthering his reputation as the league's bonafide superstar.
On the other hand? A tall, quiet, unassuming veteran named Timothy Theodore Duncan…better known as Tim. Although not glamorous, sexy or boisterous like James, Duncan has quietly become one of the most dominant players of his generation. With 2 NBA MVP's, 14 All-Star selections and 3 Finals MVP's under his belt, this 4x NBA champion has been to the playoffs every year since 1998, and at 37 years old, he's gunning for his fifth. So what's my point? You guessed it…Tim Duncan has made the Spurs an immovable playoff fixture.
Rarely are two teams so distinctly different, yet so evenly matched. Clearly the two best teams in the NBA, this matchup will be one for the ages; an undeniable clash of basketball titans and one of the most exciting NBA Finals you'll ever see. So buckle your seatbelt, crack open a beer and get your popcorn ready.
This is gonna be good.
The much-anticipated NBA season opened last night with the Celtics, the Heat and LeBron James eating a pink-frosted donut. Nike's new LeBron James: Rise commercial shows a LeBron no one expects to see: introspective, self-deprecating, a soulful slam poet wearing a fedora. From the sound of it a lot of people don't want to see this new LeBron, or any other LeBron for that matter, but it's not like Nike doesn't know that: LeBron repeatedly asks us "What should I do?" and then he says, "Maybe I should just disappear." I myself loved it: it's funny, it's smart, it's very well written, and it's got a Don Johnson cameo. I ask for nothing more.
via highsnobiety