Archive for the 'Louisville' tag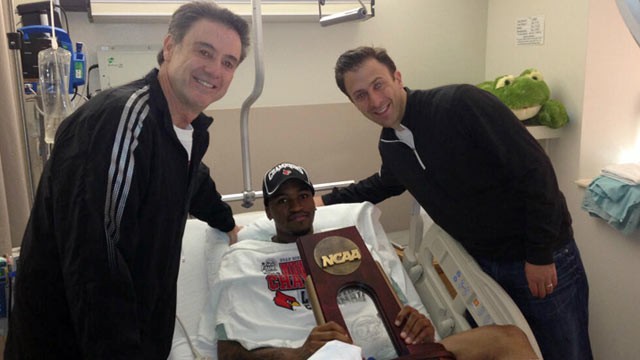 Let's set the stage – It's Sunday, March 31st and the madness is in full swing. The Louisville Cardinals are taking on the Duke Blue Devils at Lucas Oil Stadium in Indianapolis. It's a packed house. Duke's Tyler Thornton gets the pass and unleashes a perimeter jump shot. Louisville's Kevin Ware flashes toward him and leaps high in the air for the block. Thornton gets the shot off, and Kevin Ware's feet hit the court.
What occurs next is unfortunate, amazing, graphic and inspiring all at the same time.
We all saw it. We all winced and covered our eyes. We saw players, coaches, refs and fans alike gasp, collapse and hide their faces. Just about everyone in the building and watching at home was aghast at the sight of Kevin Ware's broken leg. Everyone, that is, except for Kevin Ware. Despite his gruesome injury (which I'd rather not describe in vivid detail) Kevin didn't just display amazing calm, he found a way to inspire. As tears streamed down the faces of his fellow players, Ware urged them on, telling them repeatedly "I'm ok, just win the game". His team would rally and go on to beat Duke, advancing to the Final Four.
As the Louisville Cardinals regrouped and refocused to continue their title run, Ware's influence was obvious. Players, coaches and family members who'd been affected by the graveness of the injury were given reason to smile. Ware, even while in the hospital, remained very much himself. Always smiling, always positive and with a seemingly superhuman calm, he showed the people around him that although his leg was broken, his heart was stronger than ever. Even his mother, who was horrified having watched the whole incident play out on TV, was relieved to hear her son tell her he's going to be alright.
As the Cardinals cruised into the NCAA title match against the mighty Wolverines of Michigan, Ware, with his leg in a cast and crutches at his side would receive a standing ovation from the sold out Atlanta crowd. He would also receive hugs and high fives from teammates as they hoisted his #5 jersey in his honor. Ware cheered steadfastly from the sideline (dressed in uniform, no less) as the Cardinals beat the Wolverines, 82-76.
Kevin Ware may not have been on the court that day, but there is no doubt that he helped Louisville win the national title. As athletes will tell you, in order to be a champion, it requires more than just hustle. It requires more than good coaching, conditioning or knowing the playbook. Winning is all about heart, and Ware proved that his courage and calm in the face of unimaginable pain was enough to fuel his teammates to victory.
That's what I call the heart of a champion.