Archive for the 'NBA' tag
The NBA has become the first North American major professional sports league to allow ads on jerseys. During the 2017-2018 season, players in the NBA will sport corporate logos on their team uniforms. The ad space will be sold as part of a three-year pilot program where each team will have the right to sell its own ad space to sponsors. In consideration of the foregoing, MKTG has outlined the state of jersey sponsorship in the NBA, common activation strategies around the patch and potential implications for the league.
JERSEY PATCH SPONSORS STEM FROM CONSISTENT SOURCES; TECHNOLOGY BRANDS, FINANCIAL INSTITUTIONS AND LOCAL EMPLOYERS
There are clear commonalities in the roster of sponsors who have invested in the NBA jersey patch. Firstly, technology brands are leveraging their patch sponsorship to drive mass awareness for their digital initiatives such as Sharecare and the Atlanta Hawks that are teaming up to improve healthcare for Georgia. Secondly, F.I.'s like Flagstar Bank (Pistons) and Western Union (Nuggets) are mass brands that historically have greater permission to invest in signature branding assets that reach mass audiences. Finally, employers with a large presence in the region of their local NBA team (Goodyear in Cleveland, Harley Davidson in Milwaukee) have invested back into properties that can be positioned as supporting local passion points, be a source of pride for employees, and block competitors from gaining traction in an HQ market.
BRANDS OUTLINE THEIR SUPPORTING ACTIVATION PROGRAMS TO COMPLEMENT JERSEY SPONSORSHIPS
In the majority of jersey sponsorships announced to date, brands are clear in their messaging; jersey patches are part of a broader commitment to the property. Brands are showcasing videos that highlight the brand synergies, collaborative tactics and creative activation strategies for teams and sponsor. Both Sharecare and Fitbit are leveraging their partnership to tackle health and wellness through their digital platforms. Sharecare is activating around their jersey sponsorship with their 'Sharecare Movement' in collaboration with the Atlanta Hawks. In contrast, FitBit and the Minnesota Timberwolves are exploring ways to leverage and integrate their technology to improve player's performance, and assist fans in making healthier choices during games. Jersey patch sponsorship is isolation can be perceived as an awareness-driving media buy. By complementing the asset with an integrated activation, sponsors will resonate deeper with fans.
Read the rest of the article here
Five years ago, the NBA hired SRI, a sponsorship research firm, to analyze the possibility of an unprecedented move in major American sports: placing ads on jerseys.
The internal study assessed the value of the ad-on-jersey opportunity, which is widely popular around the world, from the English Premier League to India's International Cricket League. Where there was money to be had, most major international sports bodies had cashed in. But none of the big four North American sports leagues — the NFL, the NBA, MLB and the NHL — wanted to take the first step.
There was hesitation within the NBA as the study proceeded. The chance for new revenue was clear, but it was harder to anticipate how fans would react. In the NBA, like almost every other pro sports league, the entire experience was already heavily branded: Teams sell rights to stadium names, mid-game entertainment, special seating sections and almost every panel of free space within the arena. TV broadcasts included another layer of advertising and sponsorship, including branded half-time analysis and in-game segments. The jerseys, it seemed, were the final remnant of non-commercialized purity.
For the rest of the article, click here
Article written by Will Jarvis, Advertising Age
July 30, 2015: Marriott International has destinations worldwide, and now can put them into play for theNBA.
Marriott has signed a deal making it the official hotel partner of the NBA, specifically for several jewel events, beginning with this weekend's NBA Africa Game and also including the NBA Global Games 2015-16 and NBA Canada Series 2015.
The NBA said that Marriott would be the first company to align with the NBA across international games on five different continents.
Marriott International said it has more than 4,200 properties in 80 countries and territories. The company reported revenues of nearly $14 billion in fiscal year 2014.
"Basketball is one of the most popular sports in the world, and our partnership with the NBA gives us an opportunity to tap into a passionate fan base and communicate the breadth and depth of our portfolio," Karin Timpone, global marketing officer for Marriott International, said in a statement. "Similar to what we are doing with music and entertainment, our NBA partnership helps us create memorable experiences for our Rewards members and amplify the benefits of the program for both new and loyal guests."
Bethesda, MD.-based Marriott International plans to support the union with multi-platform activations, including a sweepstakes for Marriott Rewards members in the U.S. offering the opportunity to win a trip and tickets to an upcoming NBA global event.
Marriott Rewards will host a series of private meet-and-greets with NBA legends and players for its Elite members and invite fans to take a virtual trip via an #AroundTheWorld photo and social sharing experience. That will begin with the inaugural NBA Africa Game on Aug. 1 in Johannesburg, South Africa.
Other marketing partners involved with the NBA Africa Game include Nike, Ford, South African Airways and telecom company Econet Global.
Marriott International said it would then offer Marriott Rewards members exclusive access to NBA games and events in  11 other cities across Brazil, Canada, China, Italy, Mexico, Spain and the U.K.
All but two of the games are part of the NBA's pre-season exhibition schedule. The two games that are part of the 2015-16 regular season are Boston Celtics vs. Sacramento Kings in Mexico City Arena (Dec. 3) and Orlando Magic vs. Toronto Raptors in London's The O2 (Jan. 14).
According to Emilio Collins, NBA evp-global marketing partnerships, "For our fans around the world, there is no opportunity more exciting than when live NBA games are played in their home countries. Marriott International is a renowned brand with extensive global operations, and is the ideal partner to help broaden the reach of our games and engage more fans."
Marriott International operates and franchises hotels and licenses vacation ownership resorts under 19 brands, including: Marriott Hotels, The Ritz-Carlton, JW Marriott, Moxy Hotels, Courtyard and Residence Inn.
Source: NY Sports  Journalism
MKTG INC is proud to be an official partner and supporter of the Beyond Sport United 2015 conference.
This morning on the floor of the Prudential Center, 500 sports and philanthropy executives gathered for Beyond Sport United 2015. Supported by MKTG INC and backed by US Major Leagues MLB, MLS, NBA, NFL, NHL and WNBA, the summit brings together the most powerful sport-led, social innovators and global leaders to discuss how sports teams and leagues can drive positive social change both locally and globally.
Follow along on Twitter by searching for #BeyondTheAthlete and follow @beyondsport
NBA House
The spectacle of NBA All-Star, one of the most electrifying sporting events in the world, came to New York City in February 2015. MKTG INC worked with the NBA to develop and produce a concept that would bring all NBA Fans together in celebration of basketball and its unique connection to NYC.
Welcome to the NBA House, 2015 All-Star edition. 70,000 sq ft of basketball activities, sponsor activations, and legendary NBA player appearances. Player appearances included Anthony Davis, Carmelo Anthony, Kevin Durant, Robert Parrish, and the one and only Kareem Abdul-Jabbar.
This was an extraordinary first-class entertainment experience with the NBA's brightest stars and their fans at the center of it all.
Over 21,000 fans stopped by NBA House during its 7-day tenure in Manhattan and left with a memory that will last a lifetime.
Written by: Michael Del Monaco
Gatorade "Be Like Mike"
On Friday, Feb. 13 during NBA All-Star week in New York, Gatorade allowed fans to step into the shoes of Michael Jordan by taking part in a series of athletic challenges to celebrate the return of "Be Like Mike," one of sport's most iconic commercials­. Students from area high schools, media members and even Nick Cannon recreated iconic moments that defined Jordan's career—they shot, dunked, won and even dressed like Mike! The event was captured in an online video right before the All-Star game launched a social media campaign encouraging fans to show how they #BeLikeMike.
Guest speakers were NBA legends Horace Grant and Dominique Wilkins. They shared their experiences playing with and against Jordan in such epic moments as the 1988 Slam Dunk Contest and "The Shot on Ehlo" during the Bulls 1989 Eastern Conference Finals victory over the Cleveland Cavaliers. The event was another celebratory milestone for Gatorade during its 50th anniversary year.
Written by: Mary Kate Pleggenkuhle
MKTG INC's very own EVP, Sales and Marketing Bryan Duffy is featured in a cover story of this week's SportsBusiness Journal talking the upcoming NBA All-Star Week(end). Check out the story and his thoughts on what it takes to cut through the clutter in a busy market like New York City. Read more here!
Source: SportsBusiness Journal, February 9 2015
Following the announcement of Diageo's partnership with the NBA, Crown Royal was highly present at the NBA All Star Weekend in February.
Crown Royal sponsored three parties at The Metropolitan nightclub, where celebrities from the entertainment, sports and fashion industries Reigned On all weekend long. To kick off the star-studded events, Crown Royal partnered with Kenny Smith to host his annual Mardi Gras All Star Bash. Kenny entered the party with a traditional New Orleans-style marching band, including stilt walkers. He proceeded to drink Crown Royal XO (responsibly, of course) with all his buddies in their XO-themed VIP section. Nick Cannon took over the ones and twos halfway through the party and provided tunes for the roughly 1500 guests in attendance. Shaquille O'Neal, Charles Barkley, Flo Rida, D.L Hughley, P Diddy, Grant Hill, Damaris Lewis, Romeo Miller and many others showed up to wish Kenny a happy birthday at his All Star Bash.
On Saturday, Crown Royal sponsored two parties – a day party with Terrance J and the cast of Love and Hip Hop, and a night party with Kevin Hart. Biz Markie was the DJ for the evening and Terrance J, Fabolous, NFL Saints and a bunch of basketball players were in attendance.
To round out the weekend, Robert Sickler, Master of Whisky, lead a Crown Royal tasting with media. Towards the end of the tasting Julius Erving (AKA Dr. J) made a surprise appearance for a Q&A and photo opportunity.
We all know Manchester is known for its "football" (soccer). With local teams Manchester United and Manchester City within a few miles of the city center, weekends in Manchester usually mean streets filled with seas of Red and Blue. But last month a new type of fan came to Manchester — the basketball kind. MKTG INC and the NBA worked together to produce an engaging Fan Zone to help educate fans and promote the Global Game between the Philadelphia 76ers and the Oklahoma City Thunder, played right there in Manchester. The backdrop was a Centre Court setup in Manchester's busy Printworks. The area draws tens of thousands of people, young and old, every day.
MKTG INC produced a space that got basketball fans, and even non-fans, excited about the game. Consumers could try their hand in shooting, skills and even dance competitions, while athletes signed autographs, post to the social media wall, and see "jersey row." NBA legends Vlade Divac, Peja Stojakovic, Dikembe Mutombo and Manchester's own John Ameachi were in attendance throughout the weekend. The experience made even consumers who didn't know much about basketball feel like they were at a halftime show all day long. The Global Games proved that the NBA is a truly global brand, and the UK isn't only about soccer. The next Global Game will be in London in January between the Atlanta Hawks and Brooklyn Nets.
Charlie Horsey, Chairman and CEO, announced today that the company has added key staff positions in the company's Chicago and New York offices.
Scott Malaga joined the Chicago office as Senior Vice President of Business Development. In his new role, he will lead the company's Midwest business development efforts and provide sponsorship consultation for clients. Malaga has more than 15 years of experience in sales and sports marketing, with previous positions including Senior Vice President of Strategic Partnerships for Intersport and Vice President of Corporate Partnerships with the Chicago Fire. Prior to that, he spent more than a decade selling and managing college sports media and activation.
Malaga received his undergraduate degree from Cornell University, where he was a first team All-Ivy running back and was inducted into the Cornell Athletic Hall of Fame in 1999.  He received his Masters Degree in Sports Administration from Ohio University. He and his wife live in Elmhurst, IL.
Also new to the Chicago office is Ryan Carter, who joined the MKTG INC team as Vice President, Client Service. In his new role, he will manage relationships with brand partnerships in the Midwest and beyond. He has more than 15 years of experience in creating unique consumer engagements for some of the world's most recognized brands.
Most recently, Ryan worked on Nike's Central Territory Brand Team, where he was responsible for bringing Nike Running to life in a 22-state territory, including marquee events like the Bank of America Chicago Marathon. Ryan also led a cross-functional team that launched Nike+ in 2012. Prior to Nike, Ryan worked in leadership roles at Intersport, DePaul University Athletics and the American Junior Golf Association. Ryan is a graduate of University of North Carolina-Chapel Hill and resides in Oak Park with his wife, Molly, and their two children.
In the New York office, MKTG INC named Katie Kirby to the newly-created Director of Communications position. In that role, she will spearhead the company's communications and public relations efforts.
Katie brings 15 years of experience to MKTG INC, ranging from grassroots marketing to global brand promotion in sports, spirits and hospitality. Most recently, she managed integrated communications programs at DKC Public Relations in New York. Prior to that, Katie worked at Beam, Inc. in Deerfield, IL, where she oversaw global PR outreach for Beam's vodka, rum and tequila brands. Katie previously worked as Director of Public Relations for the Chicago White Sox, where she managed PR efforts for the team's marketing, community relations and sales initiatives, highlighted by the team's World Series Championship in 2005. Katie serves as the Vice President of Marketing for the Public Relations Society of America (PRSA)'s NY Chapter. She graduated from Ohio University with a degree in Journalism.
"This is an exciting time for MKTG INC, and these new hires reflect our growth and ongoing expansion." said Horsey.  "Coming off of a summer where we executed dynamic programs for partners including Nike, Diageo, NBA, MSNBC, Proctor & Gamble and others, MKTG INC is continuing to deliver exciting, innovative programs to clients in the US and abroad."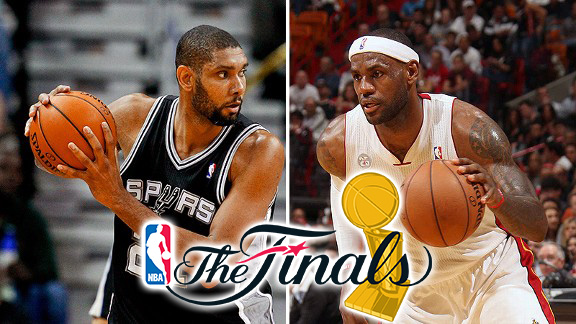 (Photo Credit: ESPN.com)
What happens when an unstoppable force meets an immovable object? The result is this year's NBA Finals. At long last, the stage is set for two of basketball's leading men to take center stage. I'm talking of course about LeBron James of the Miami Heat and Tim Duncan of the San Antonio Spurs.
"King" James is on the verge of elevating his team to dynasty-like status with his 3rd consecutive Finals appearance. Over the past 3 seasons, LeBron and the Heat have been as close to unstoppable as a team can be, blowing out opponents left and right (despite chronic injuries to Dwayne Wade and Chris Bosh's under performing). This has put the spotlight squarely on James, thus furthering his reputation as the league's bonafide superstar.
On the other hand? A tall, quiet, unassuming veteran named Timothy Theodore Duncan…better known as Tim. Although not glamorous, sexy or boisterous like James, Duncan has quietly become one of the most dominant players of his generation. With 2 NBA MVP's, 14 All-Star selections and 3 Finals MVP's under his belt, this 4x NBA champion has been to the playoffs every year since 1998, and at 37 years old, he's gunning for his fifth. So what's my point? You guessed it…Tim Duncan has made the Spurs an immovable playoff fixture.
Rarely are two teams so distinctly different, yet so evenly matched. Clearly the two best teams in the NBA, this matchup will be one for the ages; an undeniable clash of basketball titans and one of the most exciting NBA Finals you'll ever see. So buckle your seatbelt, crack open a beer and get your popcorn ready.
This is gonna be good.