Archive for the 'NCAA' tag
The brand's immersive experience simulated the atmosphere of shooting a game-winning free throw.
By Mitra Sorrells Posted April 7, 2016, 7:00 AM EDT
HOUSTON – March Madness is known for creating heart-stopping, awe-inspiring moments as 68 college basketball teams get whittled down to just one that is crowned the N.C.A.A. men's basketball champion. For this year's Final Four in Houston, Texas, N.C.A.A. sponsor AT&T worked with Team Epic and MKTG to create an immersive activation at the Final Four Fan Fest designed to help fans feel connected to the game, which ties to the brand's marketing campaign.
"Our current campaign is all about the 'Network of You'—how AT&T's network is personalized and keeps you connected to the things that are important to you any time and any place," said Enrique Casanova, vice president of Team Epic. "There is probably no other sporting event in this country that creates the roller coaster of emotions that the N.C.A.A. tournament does. So we wanted to see if there's a way to capture that emotion in a tangible way and show people what it feels like, to give college basketball fans that very future-forward, connected experience."
Read more here at BizBash.com
The NCAA Women's Final Four is in Tampa this year April 5th and 7th, and we are producing Tourney Town, the fan festival.  Taking full advantage of the sunny Florida weather, we are holding the festival right outside the Amalie Arena, making it a perfect stop for fans before game time.
While much of Tourney Town is a great consumer showcase for NCAA Corporate Champions and Partner activations including AT&T, Capital One, LG and others, this year we have added a new element called the "Lifestyle Lounge" that will be open to fans on April 4th, 5th and 7th.
Typically, fan zones and the like are built out to engage young fans, and they do a great job attracting kids. But this space was designed to speak to female adults, an important demographic of women's college basketball fans, and will feature chef demos, coaches cook-offs, Q&As, a lounge/patio area and social sharing activities and will be fun for the whole family. We are really excited to welcome fans and families to the Lifestyle Lounge and look forward to providing an update to everyone following the event!

Well, this is awkward.
We do an annual March Madness pool at MKTG INC. Traditionally, we've just done brackets – $20 to join, fill out your bracket, and then sit back and watch what happens. Some people grumble about the time it takes, so this year we added a second way to win: throw in $10, get assigned a school, and if your team wins it all, you take home the pot. Simple as that. No bracket, no paying attention to seeds, no weighing expert predictions. We found an app that scrambles lists and then randomly matched the participants with the top 48 schools.
I was responsible for sharing the bracket and the pool with the company – my name was on the emails, and I'm the person who collected payment from employees across the US (and even a few in the UK). When I was assigned a 7-seed, I figured "well, maybe next year" and moved on. I kind of stopped paying attention – it's baseball season, after all.  So imagine my delight when I woke up today to see that my seven-seed – University of Connecticut – had won the National Championship game, making me look like the sketchiest bracket administrator in history.
Congratulations to MKTG INC's Tom Tromba, who – despite having chosen Florida as the national champion – took home bragging rights on the bracket. As for me, I guess I'll just say Congratulations Huskies!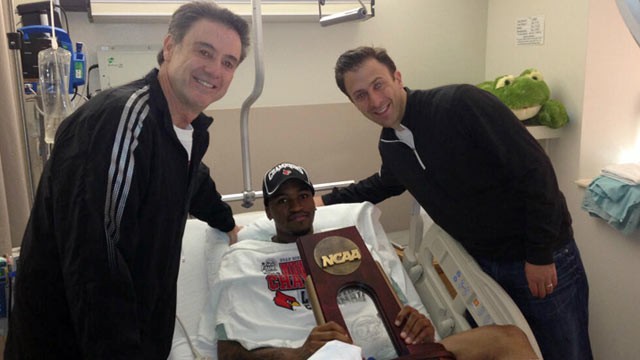 Let's set the stage – It's Sunday, March 31st and the madness is in full swing. The Louisville Cardinals are taking on the Duke Blue Devils at Lucas Oil Stadium in Indianapolis. It's a packed house. Duke's Tyler Thornton gets the pass and unleashes a perimeter jump shot. Louisville's Kevin Ware flashes toward him and leaps high in the air for the block. Thornton gets the shot off, and Kevin Ware's feet hit the court.
What occurs next is unfortunate, amazing, graphic and inspiring all at the same time.
We all saw it. We all winced and covered our eyes. We saw players, coaches, refs and fans alike gasp, collapse and hide their faces. Just about everyone in the building and watching at home was aghast at the sight of Kevin Ware's broken leg. Everyone, that is, except for Kevin Ware. Despite his gruesome injury (which I'd rather not describe in vivid detail) Kevin didn't just display amazing calm, he found a way to inspire. As tears streamed down the faces of his fellow players, Ware urged them on, telling them repeatedly "I'm ok, just win the game". His team would rally and go on to beat Duke, advancing to the Final Four.
As the Louisville Cardinals regrouped and refocused to continue their title run, Ware's influence was obvious. Players, coaches and family members who'd been affected by the graveness of the injury were given reason to smile. Ware, even while in the hospital, remained very much himself. Always smiling, always positive and with a seemingly superhuman calm, he showed the people around him that although his leg was broken, his heart was stronger than ever. Even his mother, who was horrified having watched the whole incident play out on TV, was relieved to hear her son tell her he's going to be alright.
As the Cardinals cruised into the NCAA title match against the mighty Wolverines of Michigan, Ware, with his leg in a cast and crutches at his side would receive a standing ovation from the sold out Atlanta crowd. He would also receive hugs and high fives from teammates as they hoisted his #5 jersey in his honor. Ware cheered steadfastly from the sideline (dressed in uniform, no less) as the Cardinals beat the Wolverines, 82-76.
Kevin Ware may not have been on the court that day, but there is no doubt that he helped Louisville win the national title. As athletes will tell you, in order to be a champion, it requires more than just hustle. It requires more than good coaching, conditioning or knowing the playbook. Winning is all about heart, and Ware proved that his courage and calm in the face of unimaginable pain was enough to fuel his teammates to victory.
That's what I call the heart of a champion.